Since 2016, we have had the honour to take care of the PR for PLAYMOBIL in The Netherlands. The brand has produced billions of figures since 1974 in over 80 countries. Children across the world at the age of 1 to 12 years old are playing with the many fantasy-stimulating toys.
The many novelties which PLAYMOBIL introduces on a yearly basis give cause for a good PR approach. In the past year, we have launched and organised events attracting many visitors at various locations. The very first national 'play indoors'-day, an actual PLAYMOBIL wedding at a playground in Oud Valkeveen, the launch of PLAYMOBIL winter sports in SnowWorld and a collaboration with the SS Rotterdam cruise ship, are examples of the great variety of events. The brand and the regular introductions of new playworlds are clearly loved among the press and influencers with children.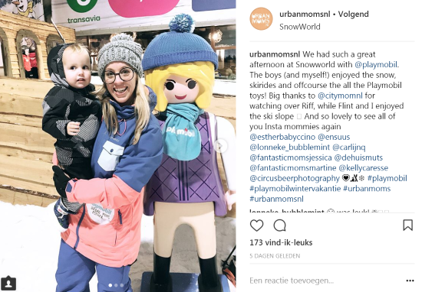 Based on the PLAYMOBIL calendar, we decide which themes best match with the communication strategies. We adjust our approach if necessary to keep it appealing, and to reach the right audience. In 2019 we will launch, among other things, the PLAYMOBIL camping, Magic Mermaids and the long-expected PLAYMOBIL Movie.